A Personal Touch
The Preferred Property division of The County Real Estate Co. is focused on providing a modern, dynamic and professional approach to Prince Edward County's quality and luxury real estate market. Our brand is positioned to attract the most affluent and qualified clientele. Listing property in this market requires a personalized approach, with a brokerage that is connected, current, and successful. We have proven we know how to sell homes, and our Preferred Property division allows us to showcase your real estate to the right group of elite buyers.
PREPARING YOUR LISTING
Staging consultation
Staging is not as hard or as much work as you think. We will give you many ideas and suggestions with respect to staging your property, and leave you with a clear and concise to-do list. In some cases we also bring in a professional stager if the property requires some extra attention beyond our scope.
Property guide
Our custom property guide will be a great resource for potential buyers to take home. We include detailed information about your property, from photos to details about the features and finishes in every room, so potential buyers can feel confident that they have everything they need to make a decision to put in an offer. We run a thorough search into the history of your home and property and include a full report with details such as surveys, well records, and zoning bylaws. We also have the right professionals inspect your property at no extra cost and take care of any issues that might arise from an inspection to avoid delays in the sale and ensure a smooth, easy, stress-free transaction with no surprises.
GETTING ATTENTION
Marketing and advertising
Each property is unique and requires a customized ad campaign that suits the property and potential buyers, including social media, newspaper, magazines and radio. Your listing will also appear on the front page of our website as well as in our featured properties.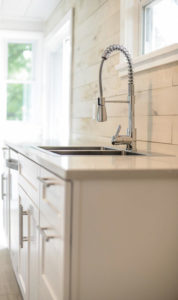 Professional photography
We believe having the highest quality pictures allows potential buyers to get a better sense of your property. Our listings include professional photography and aerial property shots to draw buyers to you.
Agent preview
A day or two before it is on the MLS system, we invite local agents to see your home. The gathering creates buzz and other agents can prepare their clients so they are ready to make an offer.
TAKE THE NEXT STEP
Experience the service and attention given to a Preferred Property listing with the County Real Estate Co. Call Stephanie Sokolowski to set up a personal visit to your property and customize a plan for your real estate sale.